Having custom labels for your products makes your company look professional, but have you heard of Variable Data product labels?
Variable Data Printing (vdp) is growing fast and is expected to be at $20 Billion in revenue before 2030. If you are looking for variable data label printing services Labelvalue is your solution.
What Is Variable Data Printing?
What is variable data printing? Variable Data printing is printing the same design but each design is unique with a different set of information. A simple example of variable data labels would be printing a list of home addresses onto address labels from an excel sheet. All the labels would be different with a unique house address.
Another example of variable data printing can be a changing consecutive number, serial number, or code. It can also be a barcode, coupon code, referral code, picture, or micro QR code. The possibilities are endless, now it's up to you to be creative! Take your marketing campaign to the next level with variable labels.
Variable Data Product Labels
Take your custom takes to the next level with Advanced variable data product labels. A good example of this is how Coke-cola added first names on coke bottles. Then coke took it a step further with the variable data product labels.
These coke bottle labels above were printed for the Coke-Cola "it's Mine" campaign.
Variable Product Label Printing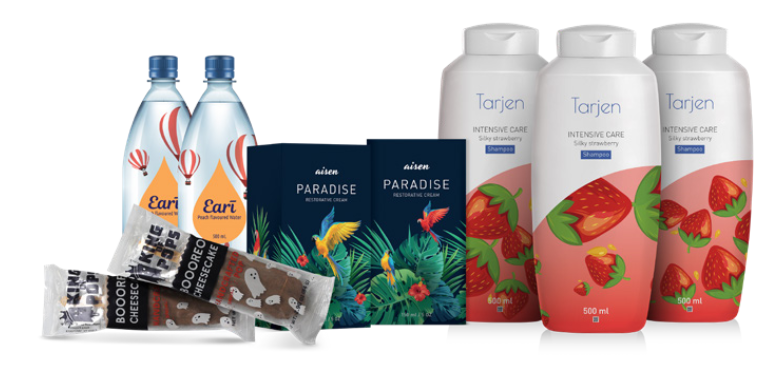 Variable data labels are the newest trend in the label industry. Variable labels can be printed in many different ways. For example you can print your custom labels with variable information that changes on every label like barcodes, batch numbers, expiration date, best by date, weight and other information.
Printing variable data labels can save your employees lots of time and hard work. Let the label printer handle all your variable data labels. Give your employees more time to focus on more important aspects of your business.
Do you notice on the above picture how the strawberries change positions, size and quantity? On the paradise product above you can see how the birds are different colors. On one product the bird is yellow, and on the other product the bird is red. These are just some examples of variable digital printing. Every label is the same, yet different.
Key Mosaic Variable Data Label Features:
Prints millions of labels with no two being the same
Unlimited unique labels
Each label the same, but every label also different
One Artwork file can create unlimited Mosaic labels
Counterfeit Security solutions like micro text, micro QR
Variable Data Product Labels
If you want to take your custom labels to the next level, you will be interested in variable data labels. Do you see how each coke bottle in these ladies hand's are different?
These are variable data printed labels, variable data custom labels taken to the next level. With no label looking like the other!
Why?
Because with variable data labels all labels will have a unique design. This means no two labels will be the same! How cool is that? That means each product on the shelf will look unique from the others.
Now you can Truly separate yourself from the competition for with variable data product labels. The random Mosaic labels can be personalized to create a specific label design. Variable data custom product labels can crop, rotate, expand, and mix the seed artwork files to create randomized patterns. with each label being 100% unique.