Thank you to everyone who has voted already in this important election! It is now past our cutoff date of October 28th, 2020 to request free I Voted Stickers, in order to receive it before election day. As always, you can purchase a roll of any of our "I Voted" Stickers at any point in the year. This election, we gave away over 700 free I Voted Stickers (2020) to individuals throughout the country. If you didn't receive free election stickers this year, be sure to come back for the midterm elections to request yours in time for election day next year!

You can also download and print one of our I Voted Sticker designs by clicking on the image below:
Why We Gave Away I Voted Stickers in 2020
Of course, we are big fans of I Voted Stickers here at LabelValue, and we're always following along with news about the free election stickers. In 2018, we noticed a
troubling trend
that seemed to become more and more prevalent - I voted stickers weren't being handed out. Some polling places merely underestimated voter turn out (which is awesome!), but others simply weren't ordering enough. Even worse, there were entire counties who opted to not pass out ANY "I Voted" stickers. Needless to say, the sticker shortage-effected voters aren't too happy. They took to Twitter and other platforms to express their discontent:
"Dropped off my ballot yesterday and I got NO STICKER. What's the point of voting if you get no sticker? How are people supposed to know I voted?!"

— Kelli Oli (@oliFEROCIOUS) November 6, 2018
(We couldn't agree more Kelli.)
We knew something needed to be done to fix this growing problem, before it really got out of hand. We couldn't look at ourselves in the mirror each and every morning knowing people are going without not only their free I voted stickers, but all of the perks and discounts businesses commonly give out on election day when you wear your sticker proudly. Plus, polls are often overlooking a growing population of absentee and mail-in ballot voters who need stickers too!
With so many businesses giving out special promotions for customers who wear their I Voted Stickers on election day, it really is disappointing for a voter to not receive their sticker, which is effectively a universal discount coupon nowadays.
LabelValue Announces Free Voting Stickers for 2020
So we announced our free "I Voted" Sticker 2020 Initiative in the early months of 2020 to #FixTheStickerDeficit. No voter should ever have to go without a free I voted sticker, so we allowed voters to choose in advance from one of our 3 Free I voted sticker designs. We were amazed at all of the positive feedback from those requesting the stickers. Across the hundreds of stickers we mailed out, there were many who wrote back in to us expressing how cool the free I Voted stickers were. All we asked was for recipients to rep their stickers and tell others about the free #IVotedSticker to ensure there would be #NoStickerShortage in this year's election.
All of us here at LabelValue, an American owned-and-operated company, are committed to making sure each and every American has access to great labels for their businesses. But more importantly in 2020, we wanted to make sure all Americans had access to free I Voted Stickers.
Are You A Supervisor Of Elections, Looking to Buy I Voted Stickers?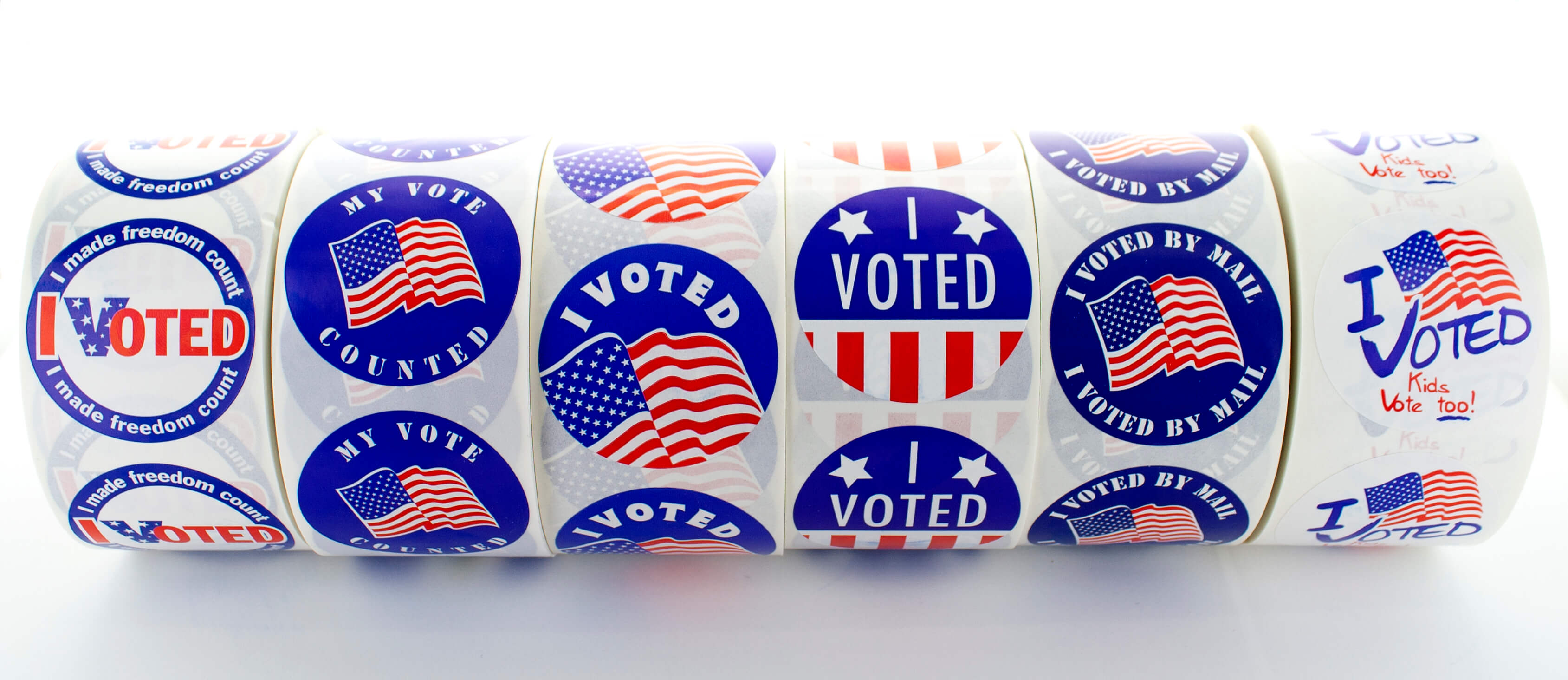 LabelValue has one of the largest selections of I voted stickers, with bulk pricing available. All pre-printed I voted stickers ship same business day - for free.
Another popular option with voting precincts are custom I voted Stickers. These allow you to add your voting precinct, county, state or any other information you wish.
Custom I voted stickers are also great option if you are running a social media campaign focused on increasing voter turnout in your district. Include your voting campaign's hashtag, and encourage people in your community to get out and vote and become a part of the fun!
Shop I Voted Stickers