The QR Code, or Quick response code
was Invented
in 1994 By Deno Wave, a subsidiary of Toyota. The Quick Response code is a variation of the barcode. It
was designed
to be a machine-readable optical label. This new label would contain information about the item it's attached too. Today many scan the QR Code with a mobile phone and takes that person to a URL to view more information. But this is just one security feature or labels. Microtext is another option.
Advantage of Microtext
1. Your Brand is better protected from counterfeit products and labels. With QR codes and Microtext you can have more security against counterfeit products.
What is microtext? Microtext is a popular way to have secret information on your label that other people cannot see. It makes your label special and unique. This unique feature adds more security to the authentic product. Because the fake product will not have the microtext security print.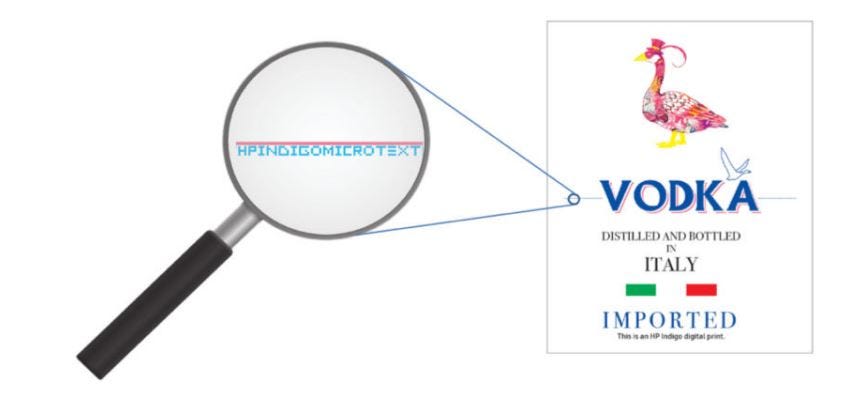 Micro text is font size that is less than 492 micron. To the eye, it looks like a thin line or decoration. It can only be read with a magnifying glass. This is why microtext on labels is a big advantage to your brand. Because it allows you to have secret and hidden information you know about. Microtext can be hidden in a hyphen, lines, text boxes and other ways in artwork. This security feature on the label can be hidden almost anywhere. When counterfeiters try to reproduce your label, this security feature will print blurry. This is just one way to add counterfeit measures to your labels. Another way is by using QR codes.
2. QR codes can Boost customer engagement. Your Brand Can Tap Into The Participatory Culture by getting customers to scan your QR code. This can generate more interaction with your brand. It can also increase website traffic to your website.
3. Advanced Marketing. By sending customers to your website with a QR code you can tell your story. While they are on your website you can also capture their email. The next time you have news about your products you can send an email blast and they will get notified. This is
just
one example of how to use advanced marketing with a QR code.
Types of QR Codes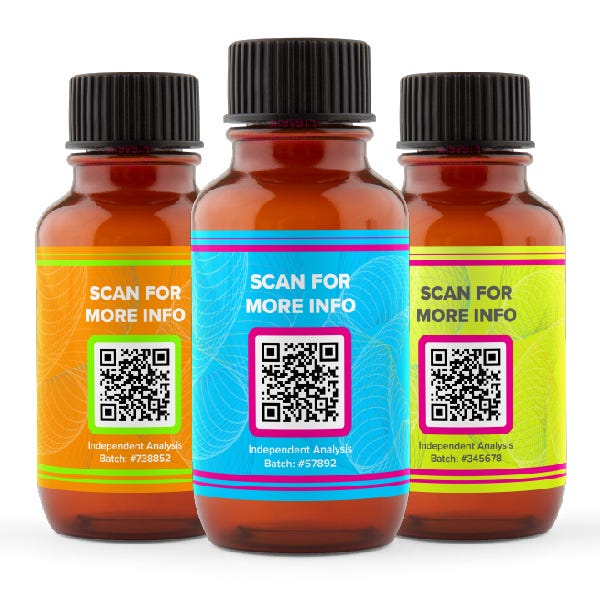 There are

really

only two different types of QR Codes. Standard and Dynamic.
A standard QR code is usually free, and cannot get changed later, it does not offer tracking. You can create as many as you need, and also design them to match your brand. But a standard QR Code is not ideal for professionals who need the most from their campaigns.
A Dynamic QR code is more flexible than a standard QR code. A Dynamic QR code is editable and can get updated later. The small fee QR code manufacturers charge is worth it.
For example if your designer makes mistakes, it is simple to fix with a Dynamic QR Code without creating a new QR code
.
Dynamic QR code solutions also offer more statistics such as the number of total scans, device, location
.
Below are some more QR code ideas for your marketing team. Add these qr codes to your custom labels and take your customer experience to the next level.
1. Video QR Code.
Consumers are wanting to learn more about the companies they buy from, and a Video QR code opens that opportunity for you
. Let customers interact with your brand by scanning a QR code and watching a video about your company. Or
multiple
videos. Take your customers through a journey about how your business started, what it does, and why you do it. This is your chance to show old and new customers what you are about. The sky is the limit.
2. Feedback QR Code. The better you understand your customers needs, the better you can help them. You cant improve if you don't understand your customers needs. Make A feedback QR code and let customers submit their input or recommendations.
3. Facebook QR Code. Promote your Facebook page with a QR code.
A Facebook QR code can help your Facebook page interact with the right audience who could become customers
. Or help you to build your brand more by getting Facebook likes with current customers.
4. Twitter QR Code. Promote your Twitter page with a QR code. A Twitter QR code can help your page interact with the right audience who could become customers. Or help you to build your brand more by getting Twitter likes with current customers. This can help create a buzz around your products and help it go viral online.
5. Social Media QR Code. Instead of making
multiple
QR Codes why not let them choose? You can create one and let your customers choose the social network they want to see you on. This could be Facebook, Twitter, LinkedIn or another website.
6. Business page QR Code. You want your brand in front of eye balls, and a Business page QR code lets you do this. Add it to your label, tag or product.
When scanned your customer will
be taken
to a page with your contact information, address and link to your website
.
7. Review QR Code. To build trust with customers you will need to hear what they are saying about your products and brand. By creating a Review QR code you can give your customers a voice. You can add these QR Codes to your custom labels, receipts, and other printed material you send out.
8. vCard Plus QR Code. Tired of printing business cards? Want to try an unlimited supply? Try the vCard QR code.
Simply
upload your vCard information into a QR code. It can display all your contact information and picture.
9. Image Gallery QR Code. It
is said
that a picture is worth a thousand words. With a dynamic image gallery QR code you can display images to your customers who scan it. Because it is a dynamic code it can also
be changed
later and updated with new images. This is ideal for someone like a painter who always has a new piece of artwork to display.
10. MP3 QR Code. Are you a musician? Or
maybe
you have a podcast. Make an mp3 QR code that your fans can scan and listen to a song. Or Make an Mp3 QR code for your podcast and let people scan it to listen to an episode or
multiple
episodes.
11. PDF QR Code. If you are a manufacturer like a bakery, you can make a PDF QR code and let customers view or download a recipe.
12. Email QR Code. Make a QR code that after getting scanned will open up an email template. This email template can
be preloaded
with a message so that your customer does not need to type anything.
A good example of this is a speaker manufacturer putting a QR code onto a box that says 'Have trouble with this device
? Scan QR code to send a ticket.
When scanned it would launch a new email prefilled in with information saying the customer is having trouble with the product
.
13. Coupon QR Code. Coupon QR codes are popular with restaurants and ecommerce stores.
This is a great marketing strategy because it can help attract new customers, while also pleasing current customers
.
These QR coupon codes can
be printed
anywhere such as product labels, news papers, or display windows
.
14. SMS QR Code. SMS texting takes QR codes to a whole new level.
You can target this audience with promotional offers, new product news, company updates or get feedback
.
You spend a lot of time working to perfect your products and make it the best for consumers, so don't let it
be counterfeited
easily
. Protect your custom labels with a counterfeit QR code or microtext.
At LabelValue we can create a custom QR code that will let customers verify information about your products and company
.
This feature is popular with CBD labels, letting customers check the cbd label results
just
by scanning a QR code
.
This helps build trust with customers, ensuring them they bought a legitimate product and not a counterfeit
.
Most QR Codes
are printed
black and white, but can also be color.
It can even be
multiple
colors, but for scanning simplicity and cost, is usually printed in black and white only
.
If the colors are not chosen
carefully
, there could be a lack of contract and the QR code will not scan.
This will be up to your graphics designer to ensure the right colors
are selected
and have the correct contrast
. Studies have also shown that people are less likely to scan a colorful QR code.
Top 6 Mistakes Marketers Make When Using QR Codes
A QR code is a great tool for driving traffic to a specific landing page for promoting products, promotions, social media or special events. They have come a long way since they were introduced and now they have become a regular part of our everyday lives. However, if you are thinking about adding QR codes to part of our marketing strategy, there are some key points you should consider. Check out these top 3 mistakes many marketers make when using QR codes.
Sending customers to pages that aren't optimized for mobile. Few things guarantee that you won't have returning mobile visitors quite like sending your customers to a site or page that is difficult to navigate because it hasn't been optimized for mobile use. Visitors will become frustrated with the site as it will be difficult to read and, chances are, will quickly leave and not return. Before implementing QR codes, make sure your site is optimized for mobile phones.


Directing customers to your website homepage. While there is nothing implicitly wrong with this, you're wasting a prime opportunity to market directly to those customers and track the results of your QR code campaign. If you create a special landing page for a customer looking at a specific QR code (maybe one that is one a billboard, flyer or product) you can change your messaging so that is specific to that customer. You can also easily track the visits to that page, knowing that each visitor was generated from that QR code. If you do want to send them to a page that has already been created (but not the home page) you can track the response with a link shortening service.


Providing poor content. Okay, so you have captured the attention of your audience and convinced those customers to scan the QR code, but it will be a waste of effort if the page you send them to is filled with low quality content. Make one of your primary goals to provide unique content that will make your QR code campaign stand out.


Ignoring traffic sources. - In order to know if your QR code is effective, you need to track the source of your traffic and how much traffic is being produced. You might consider using a shortened link for your QR code. For example, instead of generating a code using the direct link, use bit.ly so you can analyze exactly how many have scanned the code, when they scanned it, and from what country.


Linking to boring pages. It's like any website. You may have great rankings online and your pages may be fully optimized, but if your content is of poor quality, you won't make many sales. The same rule applies to QR codes. Don't make the mistake of linking QR codes to your general website's homepage. Get the most of your QR code by creating a custom landing page for anyone who has scanned the code.


Linking to a Broken page, 404 or "Web Page Unavailable." Of all the mistakes, the most important one to remember is to never send visitors to a page that cannot be displayed. Check to make sure that you are linking to a site that has been optimized for mobile, or you might lose visitors who will never return.