The sheer amount of label materials available can present titillating opportunities when choosing a color palette for your brand. It can also, though, present a dizzying array of options that can feel overwhelming to those who are newly acquainted with them.

If you know the general type of label material you're looking for already, you can jump to that material using the links below. Each type of label material has its own set of unique properties. These properties may differ in terms of their look, feel, and ability to adhere to certain surfaces.We want to help you sift through these choices, and choose the type of label material best suited for your product.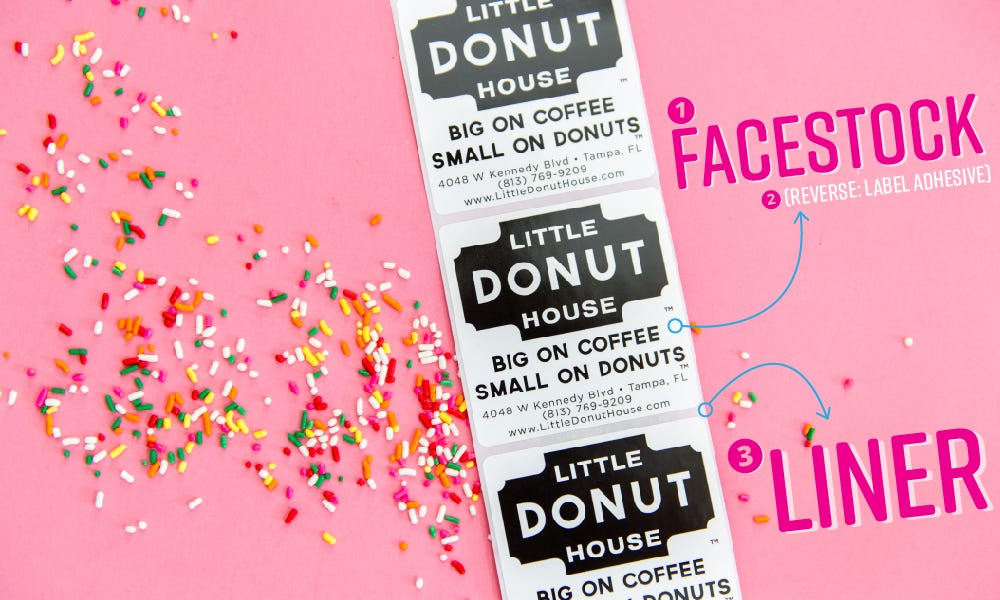 For starters, let's break down the composition of a label. Okay, so a label consists of three components.
1. The facestock, the material that is being printed on.
2. The adhesive, which is basically the sticky component directly on the back of the facestock.
3. The liner, which is the material that the sticky part of the adhesive is initially applied to.
Why should you care? Good question. Well, because in choosing a type of label material, you're also choosing the adhesive and liner that that material is comprised of. One of the first things that you should take into consideration when choosing a type of label material is the material of the container to which it will be affixed. Certain label material adhesives will easily adhere to plastic, metal and cardboard. Other material adhesives, while possessing their own unique benefits (more on this soon), will only adhere to certain container surfaces. Now, most label materials have an adhesive that will easily stick to most standard packaging surfaces, but it's important to be aware of situations that could present application issues.
When it comes to sticking label materials to certain types of containers the situation can get a bit more prickly. The issue, though, is a largely environmental one. Not like whales-and-trees environment, but rather the environment of the enclosures in which they are housed.
In rooms, storage facilities, etc., where the temperature is a considerable degree hotter or colder than typical room temperature, certain adhesives will have a harder time sticking to their containers. Similarly, moisture-filled environments can be a detriment to a label's ability to stick to the container. These rules hold true for most circumstances, but should not be taken as a broadside claim, as there are a few special exceptions to these rules. Now that we've gotten those caveats out of the way, let's delve into the nitty-gritty of label material types.
White Papers
White Semi-Gloss Paper with General Purpose Adhesive
Semi-gloss paper finds itself somewhere between the duller look of matte and the cleanly polished laminated look of traditional gloss. The white gloss is applied via machine. This general-purpose semi-gloss paper is able to adhere to surfaces like cardboard, plastic, and metal. As with any paper material, it will not be tear-resistant, water-resistant, or oil-resistant, which could lead to issues if your product is going to be exposed to any rough handling or wet environmental conditions.
White Semi-Gloss Paper with Removable Adhesive
This is a white semi-gloss iteration with the same facestock as the general-purpose alternative, but the adhesive is designed to work especially well with rough substrates. It can adhere to curved surfaces and has the flexibility of being immediately repositionable if the first try at application is not perfect. These bad-boys can be removed from surfaces, too, and without leaving any gunk behind. It is important to note though, that they may not peel away as cleanly from extremely smooth substrates.
White Semi-Gloss Paper with Freezer Adhesive
If you were looking for material that can adhere to moist or rough surfaces, you've found it. What's especially noteworthy about this material is how well it can withstand freezer temperatures. We're talking a minimum labeling temperature of -8 degrees Fahrenheit, people. Negative eight!
Kraft and Specialty Papers
Dark Brown Kraft Paper with General Purpose Adhesive
This type of label material is well-suited for those who want their products to have a homemade or handcrafted feel. The appearance is similar to fine cardboard. It is also quite durable and adds a bit of a rougher textural quality to your label art.
Classic Laid Solar Wine Paper with Cold/Wet Adhesive
This type of label material is equipped with a tenacious adhesive that's still able to be scrubbed and washed off if need be. It works well on cold and dry surfaces alike. It also has good enough water resistance to be submerged in an ice bucket without turning to mush. Its minimum labeling temperature is around 32 degrees Fahrenheit. One more thing: this type of label material is made especially for wine bottles with its beautiful, classic textured appearance and adhesive characteristics.
Direct Thermal and Thermal Transfer Papers
Direct Thermal Paper with General Purpose Adhesive
Now, this matte white label material is often used in applications like barcodes or address labels - think shipping or retail applications. These labels do not use ink, toner, or transfer ribbons. I know what you're thinking: "they must be done with pencil and paper, then? Huh?" Good guess, but not quite (although these are ideal materials for writing on as well). This type of label material is outfitted with a special temperature-activated layering. When a certain amount of heat is applied, the label darkens. It is through this darkening process that the images and texts of the label design are brought to life. The thing to remember about these labels is that they will fade over time. This is why they are typically used for conveying information that needs only temporarily be known like receipts. Note that when we say "temporary" these labels, under normal indoor conditions, will last for upwards of 18-24 months before substantial fading occurs. Also, know that the fading process will be expedited if they are exposed to excessive heat or light.
Direct Thermal Paper with Removable Adhesive
Able to affix itself to rough and smooth surfaces, this material is a counterpart of the Direct Thermal Paper, with one difference. It's removable! It can also withstand colder application temperatures. The only thing you really need to remember about this type of label material is that it may be a bit difficult to remove if it has been affixed to a smooth, even surface for a long time.
Thermal Transfer Premium Lite Paper with General Purpose Adhesive
This material is equipped to spidey-stick to any rough surface with ease. Even curved surfaces are within its purview of the stick-to-able. The top layer has been treated with a thermal-activated chemical agent, and it is suited for photocell dispensing. This material is easily writable and is compatible with thermal transfer printing applications. Thermal transfer printing is a printing process that uses a printer with a ribbon to apply an image to the label facestock.
Thermal Transfer Premium Opaque Coated Face For Block-Out Barrier with Aggressive Adhesive
This material has an opaque barrier and should be used for expedient thermal transfer printing. This type of label material is also smudge-resistant. It has an aggressive hold and will stick to glass, plastic, and even corrugated surfaces. It's been described as "latex glove-friendly" so if you're in need of hospital supplies, then come on down. Additionally, the thermal transfer facestock is easily printed upon by thermal transfer printing machinery.
Films
White BOPP with Aggressive All-Temperature Adhesive
BOPP is one of the most oft-used printing surfaces. It is actually an acronym standing for biaxially-oriented polypropylene. It's actually a different version of polypropylene, a versatile plastic that is used in carpeting, speakers, lab equipment and medical supplies. The term biaxially-oriented refers to the plastic film's capacity to be stretched both horizontally and vertically. BOPP can be described as having rugged characteristics. It is resistant to wear-and-tear. BOPP is also water-resistant, so it's okay to be stored in a cooler or very humid area. Oh yeah, and it has a very clean, premium white facestock.
Clear BOPP with All-Purpose Adhesive
Clear BOPP is best suited for achieving a no-label look. The no-label look is one in which a container has a simplistic appearance, free of the papery aesthetic of branding art. Instead, there is only the information that can be conveyed in words. Beyond this, there is only the package and, especially when the package is translucent, there are only the contents of the container—your lovely product. As you may have anticipated, Clear BOPP has all the physical properties of White BOPP. Keep in mind that the images and text may still be slightly obscured or colorized by the contents, or of the container. To print on this material, we can apply a layer of white ink beneath parts or all of the artwork to create a matte appearance. Or, for the gifted creative designers, we can apply opacity to the white layer or remove it altogether to create the appearance of merging the design with the contents of the container to create a certain degree of translucent color.
Silver BOPP with Aggressive All-Purpose Adhesive
Another biaxially-oriented material made from polypropylene. This time, however, it's a luminous, and partially reflective, silver sheet. Like the aforementioned BOPPs, this film can be stretched laterally, and longitudinally. What's more, this BOPP is resistant to moisture, water, and even oil and refrigeration. The silver material is even more durable and rugged than its white BOPP counterpart, making it ideal for use as a service tag or similar industrial applications. As a premium product label, however, it offers some amazing design capabilities. As with the clear BOPP, we can underhit the artwork or portions of the artwork with white ink, making them appear matte like they would on white BOPP. The fun part, however, is when we start to remove the white layer in percentages or in full. By applying colors to the metallic substrate, we can create the appearance of metallic ink which can make the focal point of a label stand out in stunning fashion. Think golds, bronzes, shimmery branded colors like oranges or blues. The possibilities are endless!
Direct Thermal BOPP Facestock with All-Temperature Adhesive
This is an ultra-bright biaxially-oriented polypropylene film. The rubber-based adhesive is capable of withstanding temperatures as low as -65 degrees Fahrenheit and as high as 150 degrees Fahrenheit. Additionally, it can be printed upon by direct thermal printing machinery.
There you have it. You've got the skinny on all the different label material types. If you're itching to put your newfound knowledge to work, you can order your labels instantly with InstaProof - our online label creator.