In the world of business, every penny counts, especially for small businesses. Cost-effective solutions can make a significant impact on the bottom line.
Nationwide many deli shops use stickers to label their sandwiches with essential information such as the sandwich name, ingredients, expiration dates, or sandwich pricing.
This not only speeds up the assembly process but also ensures consistency. Employees no longer needed to write handwritten labels which can be exhausting to write, hard to read, and not consistent.
In this article, we'll explore how inexpensive stickers can benefit your business, and a business like deli sandwich shops to enhance their operations and branding.
Deli shops handle a significant volume of orders daily, so using cheap custom stickers is a cost-effective approach.
Let's explore the options for creating your own stickers, including how much it costs, whether it's cheaper to print your own labels, and where to order cheap custom stickers?
How much do cheap stickers cost? Is it cheaper to print your own stickers?
With LabelValue, it is faster and easier to print cheap stickers with us and get them shipped to your door. We print professional custom cheap stickers fast and exactly how you want them. Give it a try today!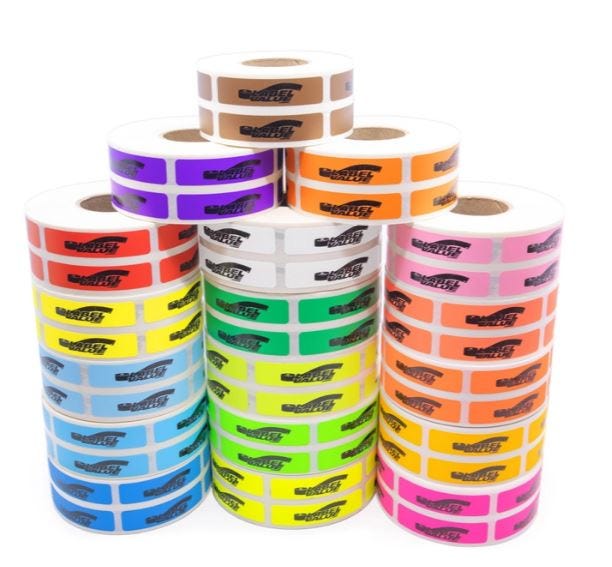 Design and print cheap stickers using LabelValue.com! design your cheap small stickers!
How can I make my own labels?
Print stickers for cheap with Labelvalue! Make cheap custom 2"x1" stickers for your business today!
Where do you order cheap stickers?
Our website allows you to print labels online.
You can buy cheap custom labels online from Labelvalue. Our label company offers a range of materials, sizes, and printing options to suit your needs.
How to design and print your own labels
To make cheap stickers, you will need to follow these steps:
Print and design custom 1.5" circles with your logo, message, qr code, and more!.
Create your label design, making sure to include the title of the product, price or other custom information.
Create your own label
Creating your own stickers can be a fun and creative process. By using our graphic design software online you can create custom stickers for your exact need.
For small businesses like deli sandwich shops, where every dollar matters, cheap stickers provide an effective and budget-friendly way to drive success.