Examples Of Custom CBD And Cannabis Labels From LabelValue
Make a lasting impression on your customers with top quality Custom CBD labels and Cannabis stickers. Available on a variety of high quality materials and finishes, low minimums and fast turnaround - have your new Cannabis or CBD labels in no time.
Examples of Materials Used For CBD Products
Sweet Grass Kitchen
Material: White Bopp With Thermal Transfer Imprintable Matte Laminate
This laminate allows Sweet Grass Kitchen to print information as needed on their labels. Great for situations where information may change (i.e. regulatory info, etc.) Maybe it's the artistry of your cannabis stickers or the evocation of its simplicity that you wish to stand out.
Uforia CBD
Material: White Bopp / Gloss Laminate
Now, everyone knows that when comes to aesthetics, you just can't go wrong with the classics. One such classic aesthetic is White BOPP. White BOPP material is the most commonly employed label material and with good reason. White BOPP is the quintessential canvas. It is a perfect backdrop for allowing the colors of your CBD stickers to pop! The gloss helps to give it awesome protective sheen. What's more it's resistant to both water and oils.
Real Deal CBD
Material: Silver BOPP / Gloss Laminate

These labels from Real Deal perfectly utilize the reflective quality of the silver BOPP material. Perfect for a high-end look, silver BOPP is a beguiling material. The reason being is obvious, it looks like metal when it is really made from a polypropylene film. Not only does this material provide labels with a high-end look, but its mirror-like surface is sure to elicit a second glance. When colorized, as in the case of the custom CBD labels below, the effect is even more startling. The material takes on a luminescent appearance bordering on the holographic.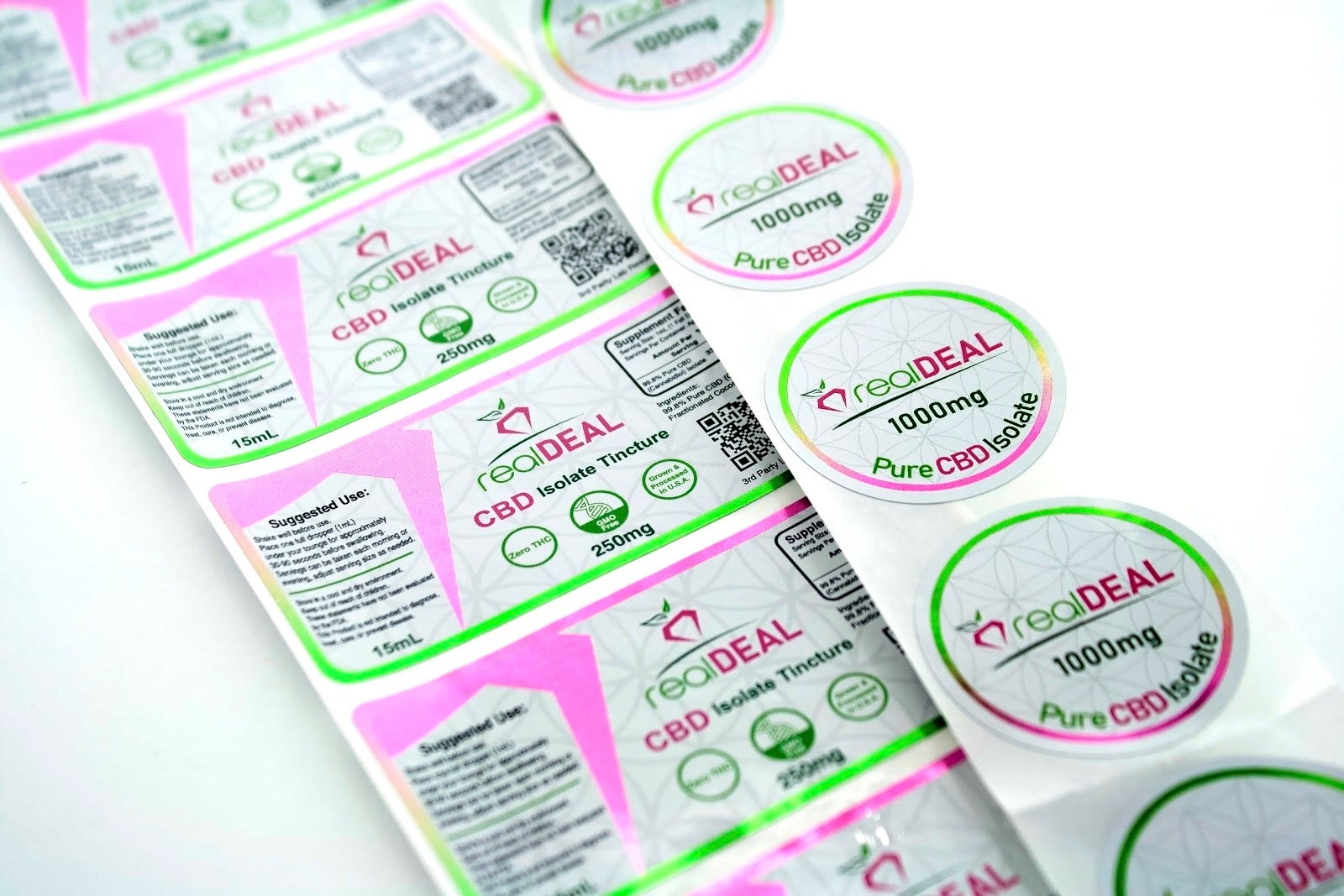 Smacked Juice Co.
Material: Clear BOPP / Gloss Laminate
It's clear to see why Clear BOPP with the Gloss Laminate is in such high demand. For a sleek and uncomplicated look, clear Bopp is the way to go. Its transparent nature allows it to draw attention to the product itself. The gloss laminate then is the perfect accent. It grants the container a high-gloss sheen that borders on the luxuriant. Smacked Juice Co. employs the material with tact, allowing the vibrancy of the juice's colors to be the product's main attention-getter. Essentially, before the taste buds are satiated, the eyes are.
Interested in creating your own CBD labels? We'd love to help. You can get started on your free custom label quote here. If instead you'd like to speak to a representative, dial (800) 750-7764. LabelValue is open Monday through Friday.