InstaProof Custom Label Creator - Instantly Create, Proof and Order Custom Labels and Stickers Online
Congrats, you've made another vital step toward turning the product you envisioned into a reality. Now you can make custom labels online! The reason you're probably here is because you know that InstaProof provides one of the easiest ways of creating custom labels.
On the LabelValue homepage, adjacent the logo at the top, you'll find a tab marked custom labels. Click it, and you'll be taken to our official InstaProof page. There you'll find an informative animated video that explains the benefits of InstaProof technology.
If you scroll through the page, you'll find more information that provides details about the label materials as well as laminates. You'll also find images of the label materials designed to give you a better idea of its properties. To get started, click the fuchsia-colored button with the words "Start On My Custom Labels," or some variation of the phrase, scrolled across it.
Using the InstaProof Label Creator
This will bring you to a page entitled "Free Online Custom Label Creator." There you will be able to begin creating your own custom label by choosing the appropriate label shape. There are quadrilateral, rounded shapes, and an option to create a custom shape of your choosing.
How to choose your label's shape and size with InstaProof
If you choose one of the quadrilaterals, you will be asked if you prefer rounded corners or square corners. There is also a "doesn't matter" option. You can then input the requisite label sizes, as well as the amount of labels needed. Once you have entered your desired size, and clicked submit, InstaProof checks our label die inventory to make sure it is available. If the size you specified is not available, a list of similar-sized label sizes will populate. If you have some flexibility in the size of your label, you can choose one of these options. However, if you specifically need the size entered, select "Use Entered Selection". Selecting a size, not in our die inventory may slightly increase your production time, as the die will need to be custom created for your order.
Using InstaProof to pick the right material and finish
A drop-down menu, equipped with the various available label options and finishes will appear. Once you've chosen the options, you'll be presented with a green button with the phrase "Continue To Artwork." Click it!
Have more than one design for your labels or stickers? No problem!
From the "Create Label" tab, you will be taken to the Artwork tab. You'll be asked to determine the number of designs that you need. A design retains the same options you have selected in the previous steps of building your label - such as the size, material, and finish. Only the artwork will differ. If you need another label that is of different size or material, a separate "label quote" will need to be created and added to your cart after the first is completed.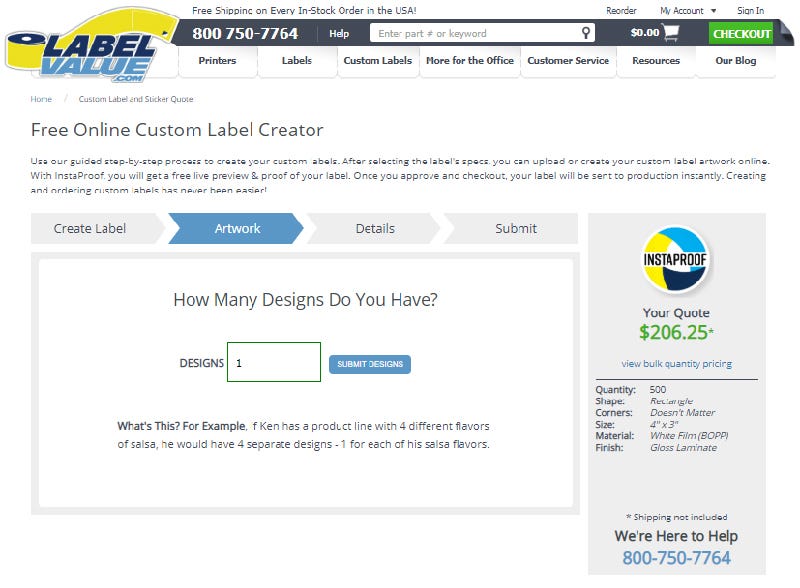 Quickly order variable and sequential data labels with InstaProof
From there, the dialogue box will expand. The question presented will be "Do You Have Variable or Sequential Data?" There will be a caption that further articulates the meaning of this question. If you click "Yes," you'll be asked to upload a variable datasheet. No matter the choice you will be granted, then, the opportunity to "Choose Your Color Options."
Choose the print color option that best suits your label's needs
The "Choose Your Color Options," are "Black Ink Only," and "Full Color." The Full-Color option means that your artwork will have at least one color of your choosing. Of course, you are not limited to one color. See, we use a process called digital printing. This process differs from traditional print methods where you may be limited to a specific number of spot colors. With digital printing, we can print an extended gamut of color options with our ability to print with Cyan, Magenta, Yellow, Black (K), and Orange, Violet, and White Inks. No matter which color options you choose, though, you can rest assured knowing that the full palette and expressiveness of your design will shine through if you choose "Full-Color."
With InstaProof you can instantly upload artwork for your label or sticker
You should be presented with the opportunity to upload your artwork now. The "Upload Artwork" tab allows you to upload your brand image. Simply, select the correct file from your computer's upload box. Please keep in mind that the accepted file types are limited to .pdf, .ai, eps, .psd, .indd, .jpg, .tiff or .png files. These files should be limited to a size of 10 MB as well. It'd behoove you to submit your labels with 1/16" bleed as well. Further instructions on how to properly upload artwork can be found in the bulleted points adjacent to the icon.
Creating your custom label or sticker with the InstaProof Editor
The "View and Proof Your Labels," drop-tab will open up. There will be an InstaProof icon, click it and you will be taken to a new page, wherein you'll be presented with an editing matrix equipped with an option-laden side panel. Before you are able to access this matrix on the page, though, you'll have to log-in. You can log-in using your established username and password. Or, you can create a new account.
Having an account with LabelValue gives you tons of options. You can save a custom label your working on and access it for later through your account dashboard, quickly reorder past purchases, earn rewards with every purchase, and so much more!

Choose your artwork's orientation
The first window to appear after you've logged-in, is the "Choose Artwork Orientation." The two options presented are "Landscape," and "Portrait." Choose the option that will best accentuate your label's artwork.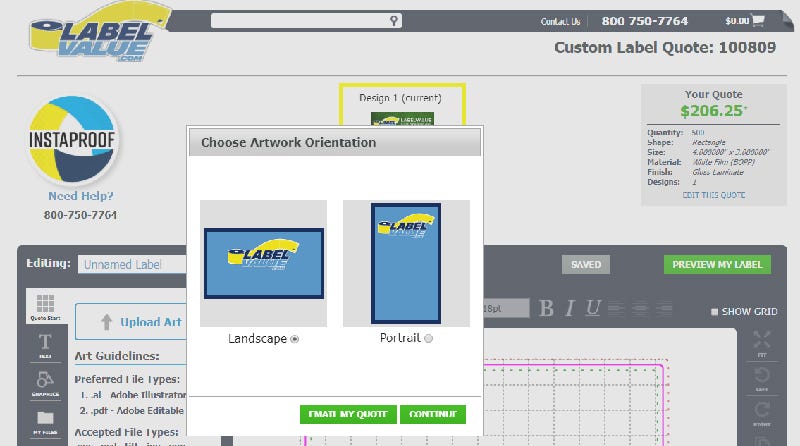 Scale and arrange your label's designs for print
Your brand imagery will, then, appear on an editing grid. You'll be able to resize your image to the shape and size of the label. The grid is fixed, or stationary. Keep in mind, the process works best when the artwork is already fitted to the intended size of the label. This makes it easier for the artwork to retain the intended width and height ratio.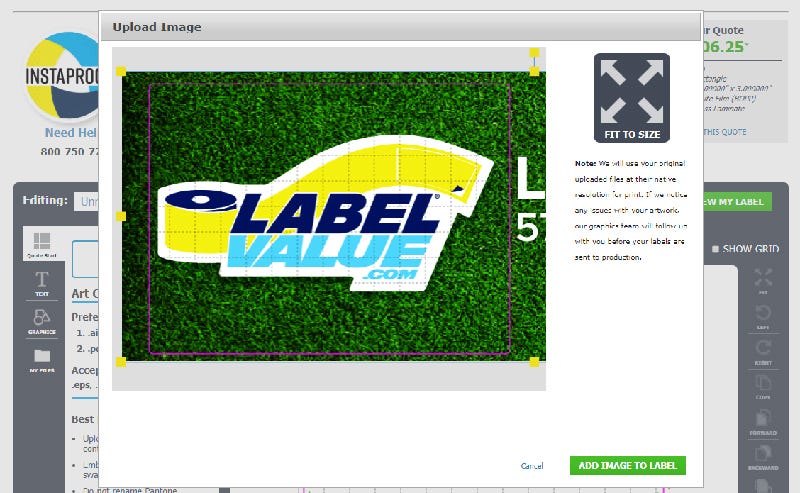 Having been granted access to the full editing program, then, experiment with the different functions to determine which effects best suit your vision. On the left and right panels there are buttons in the form of operational icons. Among them, are the options to create and edit text boxes, insert badges, rotate the image and so forth. Once you've designed the label in the fashion of your choosing, click "Preview My Label."
View your proof, approve and order your custom labels instantly
On the preview page, you'll be able to add special comments and instructions. You'll be able to select Pantone Colors to Match, determine the direction the labels will unwind, as well as select the number of labels per roll, and see your quoted price. If everything checks out, click "I Approve" and "Add to Cart" and you're off to the races!
There you have it, as simple as that. Ready to get started creating your own custom labels or stickers - Give InstaProof a try!


If you'd like further help with creating your custom label consider reaching out, you can contact one of our amazing customer service representatives.

LabelValue is open Monday through Friday 8 am - 6:30 pm EST.