Choosing the correct direct thermal labels for your printer is an important decision. You want to make sure you choose the correct label size that will fit.
This means that you cannot buy a 4"x6" roll of labels if your printer can only print 2" or 3" wide. The labels will not fit. You will need to buy a label printer that can support printing 4" wide labels.
Let's review below what we need to find a compatible label for your printer.
Label width: The label width should fit inside your printer. 2", 3", or 4" wide labels are the most popular sizes.
Same cardboard core size: common sizes are 0.75", 1", 1.5" and larger. Some direct thermal label printers have core adaptors to fit different size cores.
The roll must fit inside the printer (outside diameter)
Below are more details about choosing the right printer labels.
You want to make sure you buy compatible blank labels for your label printer. How do you know which labels are compatible with your label printer? Use the Labelvalue 'Find labels for my printer' tool on the homepage to discover labels that are compatible with your label printer.
Another solution is to read these articles here to get more familiar with how desktop label printers work. Users who are new to printing blank direct thermal labels often ask "Can I Use Dymo Labels In A Zebra Label Printer?", and Are Zebra And Dymo Labels The Same?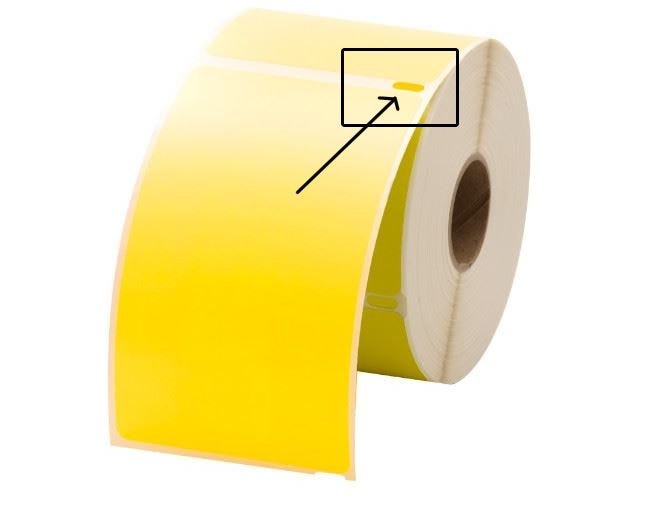 For example, the picture above is a Dymo label, but it will also work in other label printers like Seiko, Datamax, Honeywell, Bixolon and others. . Zebra labels will not work in dymo label printers.
There are several factors to consider when selecting the right labels for your needs such as the label size, material, printer, and outside diameter. Below are the minimum requirements you must check to verify compatible labels for your label printer.
Label size: Direct thermal labels come in various sizes and shapes. You should choose a label size that fits your printer's label size capacity. Some printers can only support a 2" print width, and others can support a 4" print width. If you are printing 4x6 shipping labels you will want to find a label printer that supports 4" width printing.

Be sure to measure your printer's maximum print width and length to ensure that you select the right size. Also, consider the shape of the label. Some direct thermal labels come in rectangular or square shapes, while others are circular or oval.

Label material: Direct thermal labels come in different materials. Paper is the most common material, but you can also choose synthetic materials like polyester, polypropylene, and vinyl. These materials are more durable and waterproof than paper. Choose a label material based on the environment and the application.

Label Printer: Make sure you buy a direct thermal label printer for direct thermal labels. Also make sure you buy the correct brand labels for your Dymo, Zebra, or Seiko label printer. Just use the search bar at the top of the Labelvalue website to find the product you need.


Outside Diameter- Check the outside diameter of the roll to make sure it will fit in your label printer. Many direct thermal rolls are 2"- 5" outside in diameter.
Choosing the correct direct thermal labels for your printer involves considering the label size, cardboard core size, adhesive type, label material, printer type, and outside roll diameter (so it fits inside the printer). If just one of these variables does not match, your labels will not print.
Cant find what you need? Give us a call using the phone number at the top of the page. Our friendly customer service representatives can answer all your label questions.