File Folder Labels
Has your little mound of paperwork turned into a mountain? We've been there too. Our file folder labels will organize all your file folders. Now you can organize your bills, receipts, sales reports, expense reports, travel itineraries, company invoices and other important information. Or use labels on binders as binder labels. File folders can be used at your business or home.
These labels are perfect for organizing documents into folders for fast retrieval later. Are you trying to learn how to print file folder labels? Buy printable folder labels on our website. Below are the many different types of binder and file folder labels. The Seiko SLP-FLW file folder labels are just one type of file folder labels we carry.
File Folder Labeling For Label Printers
File folder labeling will keep all your documents organized. Buy file folder labels for your desktop label printer.
Popular desktop label printer companies are:
Dymo File Folder Labels
Print file folder labels with your Dymo label printer. Buy Dymo file folder labels for your Dymo label printer. Dymo file folder labels are one of the most popular type of folder labels. This is because Dymo label printers are a large majority of the label printer market.
Binder Labels
You can also add these labels on to binders. Binder spine labels can help you organize all binders for fast finding later. Simply print the binder label you need and stick it onto the binder spine. This is a great solution to neatly organizing all your binders on the shelf.
Removable File Folder Labels
If you need binder labels as mentioned above, a removable adhesive could be useful. If you cannot find a label we can make it custom for you. This will allow you to easily remove the label on the binder. Or the file folder. whichever you are using.
It's important to consider how you will be using these file folder labels. If you want to remove the label later you will want to buy a removable label. If you want it to be permanent on the folder buy a permanent adhesive.
Color File Folder Labels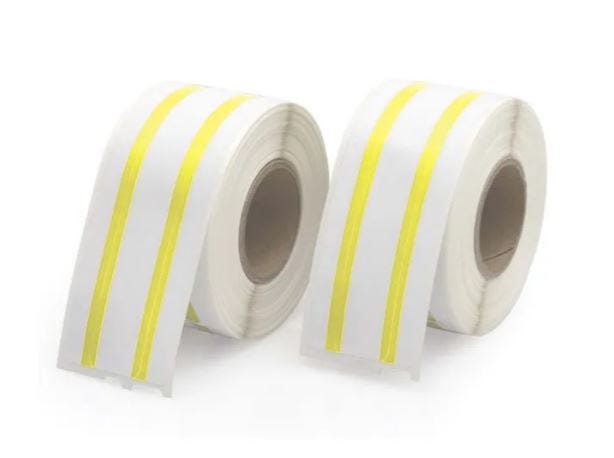 Do you need assorted color file folder labels? That's totally understandable. If you want different label colors we got you. Buy different file folder color labels here. If you dont want file folder labels on rolls, you can buy color file folder labels on sheets for your desktop printer.