Are Zebra And Dymo direct thermal Labels The Same? No. Zebra and DYMO are two different brands that produce blank labels and the labels are not the same.
Zebra Labels
Zebra is a well-known manufacturer of barcode and label printers, as well as label supplies, such as direct thermal labels, and more. They offer a wide range of labels for various applications, including industrial, retail, healthcare, and transportation. Direct thermal Zebra labels are some of the most reliable and durable labels on the market.
Will Zebra labels work in a Dymo label printer? No.
This is because Dymo label printers and Labelwriters check for a cutout eye mark hole in the liner.
Dymo Labels
DYMO is a brand that specializes in small-office and home-office labeling products, such as label makers and handheld label printers. DYMO offers a variety of labels for office use, including address labels, shipping labels, and organization labels, among others.
While both Zebra and DYMO produce labeling products, the labels they offer are not the same and are designed for different applications and uses.
Will Dymo labels work in a Zebra label printer? Yes.
This is because Zebra label printers do not use a special laser to read a proprietary eye mark hole in the liner.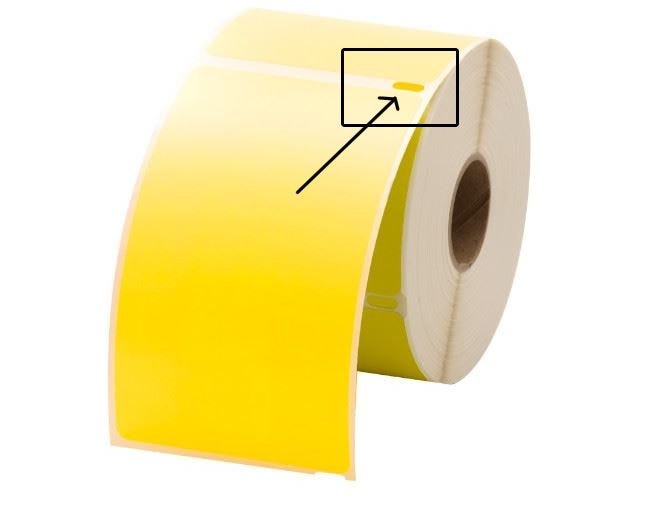 The Advantage Of Direct Thermal Label Printers
Most companies use direct thermal labels because it's a simpler printing method and does not need ribbons.
The advantage to direct thermal label printers is that you do not need to change the print head. Direct thermal label printers do not need thermal transfer ribbons.
This is because a direct thermal printer uses a print head that heats up and prints directly onto the label. This print head usually lasts the life of the label printer.
The Disadvantage of Thermal Transfer Label Printers and Ribbons
Thermal label printers use ribbon's and the ribbons must be replaced. The disadvantage to ribbons is that they need to be replaced often. This is why direct thermal labels are more popular because they dont require a ribbon replacement.
Click here to read more about, What is the Difference Between Direct Thermal Printing and Thermal Transfer Printing?